News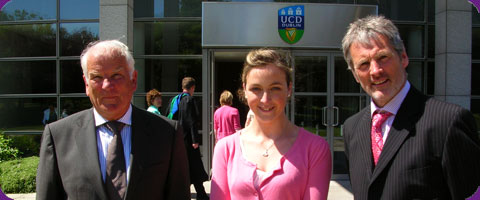 Mike O'Leary Trust
On June 17th at a ceremony in the Veterinary College in UCD, Carmel Molloy, a third-year veterinary student from Thurles, Co. Tipperary, was presented with the Mike O'Leary Trust Travel Bursary for 2009.

This is the fifth year of the Bursary which sponsors a veterinary student each year to spend a month working on one of VIVA's overseas projects. The Mike O'Leary Trust was established to honour the memory of Kerry vet, Mike O'Leary, who died tragically in 2003 at the age of 39. His family and friends have undertaken a number of fundraising initiatives over the years to raise funds for the Travel Bursary in addition to supporting the Irish NGO, GOAL, and cardiomyopathy research. The O'Leary family was represented at today's ceremony by Mike's father, Frank O'Leary.
Carmel will spend a month in Uganda working with our partner there, Heifer Uganda, which will give her the opportunity to visit the VIVA-funded Koilei Amora Ican Animal Traction Project. One hundred and twenty eight families are being supported with the distribution of draft oxen, ploughs and carts. VIVA has committed €80,000 over the next three years to this project.
VIVA would again like to thank the Mike O'Leary Trust for their generous sponsorship of this unique initiative.