Our Projects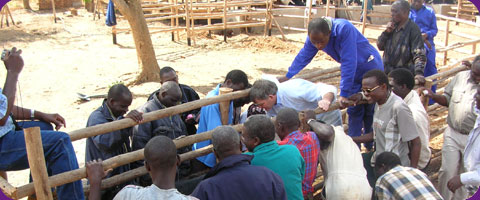 Malawi
VIVA has been involved in Malawi for several years. Our country project partner, SSLPP (Small Scale Livestock Promotion Programme), assists small livestock farmers by donating livestock to farmer groups and following up with training and technical assistance. Many of these animals (pigs, goats & cattle) have been donated by Bóthar donors in Ireland.
Over the years VIVA volunteer vets have provided training in cattle and pig husbandry to the recipients of these animals. In addition, they have provided training for artificial insemination technicians and dispatched thousands of straws of bovine semen to supply these technicians.
At present, VIVA is concentrating on training and equipping paravets for SSLPP. These paravets or Community Animal Health Technicians (CAHWs) provide a very important low-cost veterinary service to the small holder farmer in a country with no rural veterinary services. In the summer of 2007, Mike Burke and Pat Murphy, a practitioner from Loughrea, travelled to Malawi to provide basic skills training to the SSLPP paravets.
While being very enthusiastic and committed the paravets are hampered by a lack of basic equipment. To overcome this, Pat Murphy, on his return gathered together fifteen veterinary practices in Ireland who all agreed to sponsor a Basic Equipment Kit for each of the paravets. These kits (containing burdizzo, dehorning irons, snaffles, thermometers, calving ropes etc) were dispatched in February of this year and have now distributed. One of the recipients, Clinton Kawonga, recently contacted VIVA to express his gratitude for the initiative "When the consignment finally arrived in my hands I was not only overjoyed with excitement, but also overwhelmed and spellbound in my spirit. I jumped about in front of my family and prayed"