News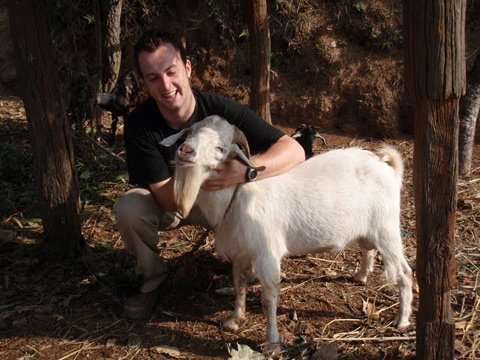 (Ciaran with Billy, a Boer cross buck goat)
Ciaran Göbl leaves Nepal
This month, Longford vet Ciaran Gobl, VIVA's representative in Nepal, finished his one year placement. Building on the work of his predecessor, Susan Griffin, Ciaran has been instrumental in ensuring the successful implementation of our project there in conjunction with our partner, AHTCS. VIVA would like to wish Ciaran the best of luck with his travels and below we reprint the farewell post from his blog (https://www.vivanepal.blogspot.com/)
"Nepal in a nutshell"
Over the past year I have had the extraordinary opportunity to live and work in Nepal as VIVA's representative. I have gained some valuable experience in livestock programmes in a developing country, from managing an NGO to working with some very talented people, all of whom carry the torch for Nepal's future. I have also had the chance to share my experiences with some very enthusiastic farmers and veterinary technicians alike. However, I still feel that I have gained more from my time here that I was ever able to give.
It is hard to imagine that I have been living in one of the poorest countries in the world. The generosity of the people in Nepal would put many of us at home to shame and with the soaring Himalayas as a backdrop, it most surely is one of the richest countries for natural beauty. But when you spend a period of time off the beaten track, you begin to understand how difficult it is to eek out a living on a small plot of land in a country that's 60% mountainous and very densely populated.
Poor governance and corruption are replacing the Maoist insurgency as the single biggest factor holding this country back from development. And at a time when this tiny nation should be jumping on the back of the Indian and Chinese economic bandwagon, it is struggling to settle petty internal squabbles. With all these pseudo issues, it is the people who have been forgotten, especially the 2.2 million people who are suffering from hunger at this moment. It is when you meet the man in the field that you see where our resources must go.
Our programmes are aimed at improving agriculture through technical expertise and women empowerment. Livestock are at the heart of our projects because of their importance in providing food security, animal traction and socio-economic status. I have seen the differences we can make and will do my utmost to show everyone I meet what an impact we can have.
I am regretfully leaving Nepal, but I will take such fond memories that there will always be a part of me left here. I hope to return someday soon to help develop future projects and to evaluate the ones we have in place. I also hope that I can use my experience in other countries and will be a VIVA ambassador for many years to come. I have certainly broadened my horizons and Nepal has taken my outlook on life by the shoulders and given it a very serious shaking up. It has been a pleasure.
Thank you.
Ciarán.